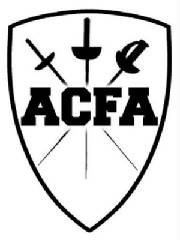 AC FENCING ASSOCIATION MEMBERSHIP
ACFA club dues consist of an annual armory fee of $30 and a membership fee of $30 for a total of $60 per year. Families with multiple fencers in the same household pay the full $60 fee for the first fencer and $30 for each additional fencer. The registration fee pays for USA Fencing insurance for the club and your first ACFA patch. The armory fee helps to pay for incidental armory repairs and a small monthly stipend for the club armorer, Will Willis. The ACFA fencing year also runs from August 1st to July 31st of each year. All club dues should be payable on August 1st of each year.
CLUB APPLICATIONS
You will also need to complete a club application and waiver form before class or practice. Questions about membership should be directed to Chuck Slaughter, Bary Nusz, Kala Simpson or Mathew Gasparovich.
USA FENCING MEMBERSHIP
In order to fence competitively, all fencers must be a competitive member of USA Fencing. Annual USA Fencing dues are $70 for a competitive membership. The fencing year runs from August 1st to July 31st of each year. If you join USA Fencing after April 1st, then your membership will expire on July 31st of the following year. The USA Fencing website is
www.usfencing.org
. You must create a profile and register for USA Fencing on that website. At the appropriate places on the web form, list Amarillo Competitive Fencing Association as your club, Plains Texas Division as your division, and Chuck Slaughter as your coach if you are listing ACFA as your primary fencing club.
AMARILLO COLLEGE FENCING CLASSES
All ACFA competitive fencers must also register for one of the Amarillo College Fencing Classes EACH AND EVERY SEMESTER. The semester classes are approximately $53 per semester. These classes are one of the main reasons that ACFA is able to keep its dues so low. Amarillo College provides a venue, heating, air conditioning and some of the equipment used in running the competitive program. In exchange, ACFA coaches Chuck Slaughter and Bary Nusz are volunteer instructors for Amarillo College. If you are a competitive fencer you should register for the Youth II Fencing Class if you are under 13 years of age or the Intermediate - Advanced Adult Fencing Class if you are 13 years of age or older. If you have any questions about the classes talk to Chuck Slaughter.
ACFA PATCH & TEAM COLORS
You will receive one official patch of the Amarillo Competitive Fencing Association (ACFA) with payment of your first year dues. It should be sewn securely on your fencing jacket on the "unarmed" sleeve, one inch below the shoulder seam. Additional patches may be purchased for $4.00 each. The official team colors of ACFA are Royal Blue and White.