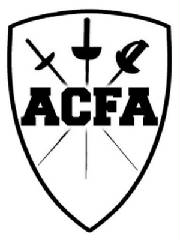 Amarillo Competitive
Fencing Association
at Amarillo College is a non-profit Association of persons with an interest in the history and basic principles of modern sport fencing and active participation in USA Fencing sanctioned tournaments at all competitive levels. ACFA is a member club of USA Fencing and also operates in agreement with Amarillo College by providing instructors for the fencing classes in the personal enrichment department of Amarillo College.
ACFA practices in the Fencing Salle located in Russell Hall, Room 104, on the Washington Street Campus of Amarillo College in Amarillo, Texas. You can usually find one of the coaches at the Fencing Salle on Monday at 7:00 p.m.; Thursday at 7:00 p.m.; or Saturday at 10:00 a.m.
Amarillo Competitive Fencing Association is the Home Club of Juleah Nusz, the 2009 USFA National Champion in Junior Women's Epee.